Custom Database Development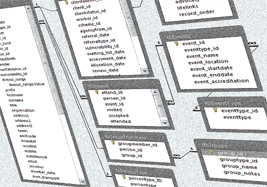 As database developers we deal with businesses big and small, often getting clients to make a fresh start with the way their office runs by combining data from various sources into a new, streamlined database design that can be accessed from anywhere.
The initial phase of our work is key to this, where we talk to our clients to discover how their business works: we want the database we design to describe your business.
About Us
Our skills, approach and management
Typically, we will discuss requirements with you and produce a project document. Usually, there will need to be data migration from other sources (such as Excel, text and CSVs) which we will convert into data tables: you may even have an existing database that requires a complete overhaul. The data might be stored locally or in the cloud on a MySQL Server or Microsoft SQL Server. We would then build a "front end" you can use to access this data via data entry forms, and reports you can print...
view more
Testimonials

Paula Palmer, Office and Web Manager, National Historic Ships
... (The Database Bureau) has worked with us over the last 6 months to design, install and maintain our database, including the migration of historic information. They took time with key people in order to understand our requirements, giving advice where they felt necessary, and explained the development in terminology we could understand...


view more