Our Approach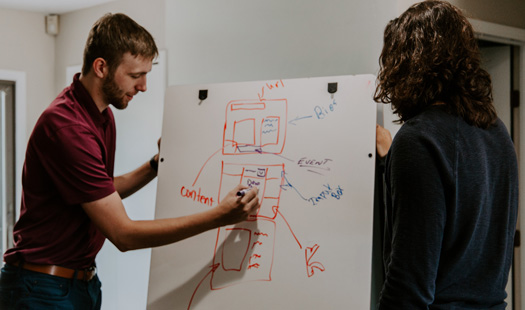 Typically, we will discuss requirements with you and produce a project document. Usually, there will need to be data migration from other sources (such as Excel, text and CSVs) which we will convert into data tables: you may even have an existing database that requires a complete overhaul. The data might be stored locally or in the cloud on a MySQL Server or Microsoft SQL Server. We would then build a "front end" you can use to access this data via data entry forms, and reports you can print. Often the front end is an Access application which you can distribute to your users: their login will automatically install the latest version of the front end software. The design phases of testing, feedback and modifications would then result in a live version, following which we are available to provide support and updates.
Tailored Database Design
Making a Database Describe Your Business
Database design usually needs a combination of tools and software. Microsoft Access works fine as a standalone database for one computer or as a front end (forms, reports, code) plus back end (data) on a network. We're increasingly designing databases which use Access as a front end but with a SQL Server or MySQL (free) database as back end. Additionally, any of these databases can be used as a back end to a web front end. We use VBA for coding.
Custom and Wordpress
Web Design
Getting Customers to Explore Your Business
For many years we designed only custom-build web sites, moving on to templated and then responsive designs. We discovered, however, that our clients increasingly wanted sites they could modify, edit, add to. In the early days of Wordpress, there were still a lot of things you couldn't do without hard-coding content, but the application has improved immensely. Now we recommend Wordpress to clients for its ease of use (compared to much more complex platforms such as Joomla and Drupal) and countless free plug-ins which enable events, blogs, shops, membership etc. However, we are equally happy to design a custom build for you if you need a more specialised web site.
Databases on the Web
Combining Pages, Code and Databases
We use Photoshop CS3 extensively with web design along with a number of other graphic/video/audio tools. We often need to integrate Microsoft Office applications as part of an Access project, so we are conversant with coding for Outlook VBA and Excel VBA within Access. We use ASP (Active Server Pages) for web/database projects: these enable us to design forms on web pages so that you can add and edit your database data online, as well as view and print data.
Latest Projects
Database Design

Currently working with Zoological Society of London (ZSL) (London Zoo), Erb's Palsy Group (Coventry), Centre for Agriculture and Biosciences International (CABI) (Oxfordshire), National Historic Ships (Greenwich) Metropolitan Lodge (Covent Garden), Southend Carers (Essex), Action For Carers (Guildford), White Lodge Centre (Chertsey) and Damp2Dry (Barnsley)
Web Design

Recently completed sites for Erb's Palsy Group (Coventry), Telecommunications UK Fraud Forum (TUFF), South London History Site The Peckham Society, world music singer Reem Kelani, jazz trumpeters Henry Lowther and Chris Hodgkins, internet radio station Jazz London Radio and supplier of large PA systems Worldwide Sound Brokers.
Hosting

We also host over 50 domains, providing domain registration, email set-up and management, DNS settings, SSL upgrades, control panels and cloud based database hosting for MySQL, SQL Server and Access databases, as well as many other services.