People's Trust for Endangered Species

... (The Database Bureau) worked with us over the past year developing an access database to tie in with an online grants application system.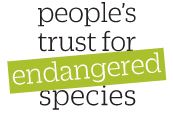 I work for a wildlife conservation charity and wanted a smooth system for people to apply for grants online as well as storing data ongoingly. It seemed like a mammoth task, and one I struggled even to describe to potential developers. I approached several different companies but it was (The Database Bureau) who filled me with confidence with their suggestions on the best way to approach the project. They were extremely helpful, calm, thorough and a pleasure to work with. And they completed everything on time too. I wouldn't hesitate to

recommend them for any database work - and already have.
Nida Al Fulaij, Development Manager
People's Trust for Endangered Species